Peter Sheridan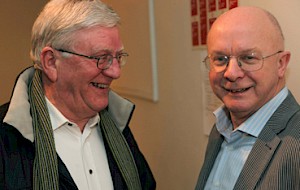 Peter Sheridan is a playwright, director and author. With his brother Jim he founded the Project Theatre Company and his writing credits there include The Liberty Suit (in collaboration with Gerard Mannix Flynn), Emigrants and No Entry. Among his directorial credits is The Shawshank Redemption at the Gaiety and most recently, Dancing Shoes – the George Best Story, at the Grand Opera House, Belfast.
[Photo: Jimmy Kelly and Peter Sheridan at 'The Old Triangle' in the Abbey Theatre, 26th Feb 2012 ©Derek Speirs]
Peter founded the City Workshop in 1982, a drama initiative based in the north inner city, and with the company collaborated on a trilogy of plays charting the social history of Dublin in the 20th century. He co-founded CAFÉ, Creative Activity for Everyone, and sat on its board for eight years. He also served on the board of City Arts Centre and was a member of the ACE committee. During the 80s, he also conducted, in conjunction with the Arts Council, innovative drama and writing workshops in Arbour Hill Prison.
His film credits include the award winning short The Breakfast (winner of the Prix Arte at the Brest Festival and a Canadian Rocky at Banff), and the feature Borstal Boy, starring Danny Dyer, Shawn Hatosy and Michael York. His publishing credits include two books based on his family, 44: A Dublin Memoir (nominated for an Irish Times Literature award in 2000) and Forty-Seven Roses. A memoir based on his theatre work will be published in 2012.
Peter was among the artists who performed on the Abbey Theatre stage on Sunday 26th February 2012, as part of 'The Old Triangle - A celebration for the benefit of the Irish Penal Reform Trust'. A wonderful raconteur, his story of early encounters with justice brought the house down.