In the news: IPRT response to plans to recommence physical prison visits
24th June 2020
On 23 June 2020, the Irish Prison Service published plans to recommence physical visits to prisons on a phased basis, commencing on 20 July.
Shortly following the announcement by the Irish Prison Service, IPRT issued a press release welcoming the publication of a timeline. However, while we welcomed the gradual introduction of physical visits is welcome, we stressed that video visits should remain as an option to supplement contact even after physical visits fully resume. We also outlined our hopes that the phases could possibly be accelerated if infection rates remain low and if public health guidance allows.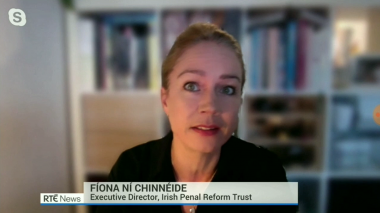 Following this, IPRT was featured online, in print and on TV. Notably, our response was featured on RTÉ Nine O'Clock News on 23rd June. IPRT's Fíona Ní Chinnéide outlined that there are approximately 6,000 children with a parent in prison. While there are known benefits of family contact – such as maintaining family relationships and reducing reoffending on release – it is also important that the right of a child to contact with their parent, regardless of their status, is met under the UN Convention on the Rights of the Child. Playback of the clip will be available on the RTÉ Player until 26 June.
To read some of the media stories in which IPRT was featured, see the links below.