Irish Examiner: Behind Bars No Place for a Child
30th November 2009
This analysis piece by Dr Ursula Kilkelly appeared in the print edition of the Irish Examiner, 30th November 2009. Photo: Maura Hickey.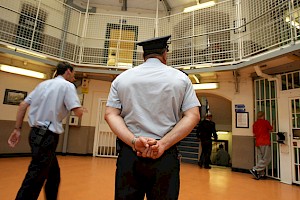 Recent years have seen progress in the modernisation of the Irish youth justice system. Critical among these changes is a move away from the use of detention for children. The Children Act 2001 requires that children should be detained as a measure of last resort and only where the court is satisfied that it is the only suitable way of dealing with the child.
The Act includes a range of community-based sanctions – day centre orders, training orders and supervision orders for example – designed to ensure that children who offend stay in their communities. In 2008, 123 children were detained in the Children Detention Schools, facilities run by the Irish Youth Justice Service for children under 16 years, and the average occupancy was 46. This is a welcome decline in the number of children detained, but it is only half the story given that a further 161 children aged 16 and 17 were detained in St Patrick's Institution, run by the Irish Prison Service. Moreover, approximately one third of all children detained were on remand.
Although most children are now separated from adults in St Patrick's (this is required by international law), the Inspector of prisons noted in 2009 that 25% of the juvenile population are on protection, fearing for their own safety. Children in St Patrick's have no access to an independent complaints mechanism – the remit of the Ombudsman for Children covers the Children Detention Schools but does not extend to children detained in St Patrick's – and a change to legislation to extend the remit of the OCO to receive complaints from children in St Patrick's is required urgently to ensure their rights are fully protected.
International rights monitoring bodies have consistently recommended the removal of children from St Patrick's Institution, which is an inappropriate environment for children, and when the new facility is built in Lusk, County Dublin, the 16 and 17 year olds will be transferred there too. However, this is unlikely to occur before 2012.
In the meantime, efforts must be redoubled to ensure that the detention of all children meets best practice, and the publication by the Irish Penal Reform Trust of Detention of Children: International Standards and Best Practice aims to inform this process. The document outlines the wealth of guidance that can be used to ensure that detention, usually an expensive and damaging process, has constructive benefits.
The UN Convention on the Rights of the Child, to which Ireland is a party, requires that detention is a measure of last resort, and that children in detention are treated in an age appropriate manner. Other instruments, like the UN Rules for the Protection of Juveniles Deprived of their Liberty and the European Rules for Juvenile Offenders Subject to Sanctions and Measures, constitute a practical, comprehensive and detailed charter on the treatment of children in detention. They advise on the organisation and management of youth detention facilities, and detail how to ensure that children's rights to protection from harm, to health and health care, to education and to contact with family and community are protected.
The use of physical restraint and separation must be limited to exceptional circumstances, and discipline must be administered in a fair and transparent manner. International standards highlight the importance of ensuring that each child's placement meets their individual needs and they require co-ordination with community based services to ensure reintegration is successful. The child's right to access an independent complaints mechanism is clear, as is the child's need to receive accessible information on all relevant issues, support and advocacy services.
It is timely, given the ongoing reform, to consider the added value that international standards bring to the detention of children in Ireland. Informed by best practice and research, they reflect the collective wisdom on the treatment of children in detention and provide a useful benchmark against which law and practice can be measured.
Where compliance is not achieved, the standards may be taken into account in legal action against the state. For all these reasons, the international standards must be implemented now to ensure that the detention of all children in Ireland is rights-compliant in the interests of children, their families, their communities, and wider society.
Dr Ursula Kilkelly is Senior Lecturer in Law at University College Cork and Chairperson of the Irish Penal Reform Trust.
See also: