RTÉ Six One News: Drug use and violence in the Irish prison system
6th February 2015
There has been increased media focus in recent weeks on the issue of drug use and violence in the Irish prison system. A series of reports by RTÉ crime correspondent Paul Reynolds, shined a light on the challenges Irish prisons face in stemming the flow of drugs and unlawful weapons into Irish prisons.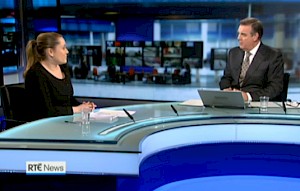 IPRT Executive Director Deirdre Malone was interviewed by Bryan Dobson on RTÉ's 'Six One' news programme, where she spoke of the necessity to provide "drug-free areas" in prisons, in order to decrease the likelihood of exposure to such substances, as well as calling for a range of rehabilitative measures to be put in place in order to aid the transition of prisoners to a drug-free lifestyle.
There have also been issues highlighted in the RTÉ reports regarding inmate violence and the seizure of large amounts of weapons last year in Irish prisons. IPRT's Deirdre Malone responded to this report by emphasising the need, among other measures, for a cohesive response to violence within prisons, including a reduction of those on 23-hour lock-up, and the establishment of a fully independent complaints mechanism, which would benefit both prison officer and prisoner alike.
See below for media coverage of the issues and concerns raised.
Read more:
Listen more: