IPRT appears before Joint Committee on Justice to discuss rehabilitation within prison
29th March 2022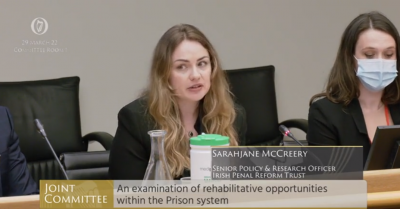 [IPRT Senior Policy and Research Officer Sarahjane McCreery. Photo: Oireachtas TV.]
IPRT Senior Policy and Research Officer Sarahjane McCreery and IPRT Acting Executive Director Molly Joyce appeared before the Joint Oireachtas Committee on 29 March as part of an examination of rehabilitative opportunities within the prison system.
We were pleased to give evidence alongside Warren, who made history as the first serving prisoner to participate in an Oireachtas debate. Evidence was also given by Caron McCaffrey (Director General, Irish Prison Service), Fergal Black (Director of Care and Rehabilitation, Irish Prison Service), Eddie Mullins (Governor of Mountjoy Prison) and Ethel Gavin (Former Governor).
 
IPRT's Opening Statement can be read here.
A transcript of the discussion can be read on the Oireachtas website here.
A video of the Committee meeting is available online here, with IPRT appearing from 00:42:50. Questions from Committee members commence at 00:57:45.
The Opening Statements of the other witnesses before the Committee are available on the Oireachtas website here.
 
Media coverage: