In Memoriam: Dr Paul O'Mahony
13th November 2015
It is with deep regret that IPRT observes the passing of Dr Paul O'Mahony, a central figure in the founding and development of the Irish Penal Reform Trust.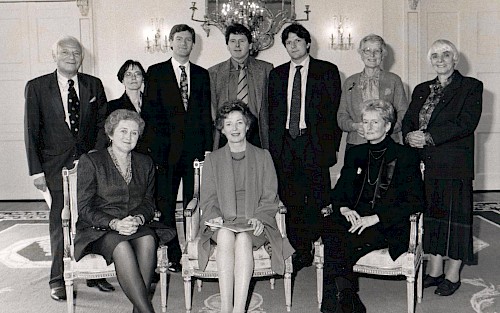 [Dr Paul O'Mahony, standing centre, at Áras an Uachtaráin in 1997 as part of an IPRT delegation who met with President of Ireland, Mary Robinson. Photo: Tommy Clancy.]
Dr O'Mahony was one of Ireland's pre-eminent advocates of penal reform, a stance taken on the back of exceptional research in the field of criminology, as well as a profound moral sense.
He was the author of six books, and an extensive range of other writing, all of which are imbued with humanity and a passion for social justice. 
Dr O'Mahony was a member of the first Management Committee of IPRT, and delivered a keynote speech on The Prison: from Salvation to Salvage at the formal launch of the organisation on 29th June 1994 in Trinity College Dublin.
Paul was unfortunately unable to attend the IPRT's 21st birthday event at Áras an Uachtaráin on 18 September, but President Michael D. Higgins paid a glowing tribute to him that night for his work as a criminologist and penal reformer.
Our thoughts are with his friends and family.