IPRT appears before Joint Committee on Key Issues affecting the Traveller Community
21st October 2021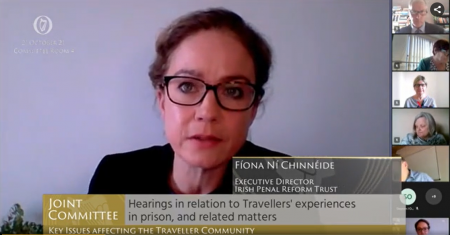 [IPRT Executive Director Fíona Ní Chinnéide. Photo: Oireachtas TV.]
IPRT Executive Director Fíona Ní Chinnéide appeared before the Joint Committee on Key Issues affecting the Traveller Community on Thursday 21st October to discuss Travellers' experiences in prison in Ireland and related matters.
IPRT was joined by Anne Costello (Travellers in Prison Initiative), Maria Joyce (National Traveller Women's Forum) and Barry Owens (IASIO) during the first half of the session. Representatives from the Irish Prison Service, Probation Service and the City of Dublin ETB were heard in the second half of the session.
Our recommendations to the Committee are as follows:
The Department of Justice should ensure that ethnic equality monitoring is adequately carried out across the criminal justice system using the ethnic categories developed by the Central Statistics Office. The information, appropriately anonymised, should be made publicly available to support further research and evidence-informed policy and practice.
The Irish Prison Service, in the present review of the Prison Rules 2007, should ensure that the revised Prison Rules include an explicit statement of commitment to eliminate discrimination.
The Irish Prison Service and the Department of Justice should work together to ensure that the new internal prisoner complaints mechanism is introduced before the end of 2021 and consider how the complaint system can address and investigate allegations of racism in an effective manner.

For more, IPRT's Opening Statement can be read here.
A video of the Committee meeting is available online here, with IPRT appearing from 00:46:23. Questions from Committee members commence at 01:00:40. The second half of the Committee session commences at 1:54:25.
The Opening Statements of the other witnesses before the Committee are available on the Oireachtas website here.

Media coverage: