IPRT becomes an organisational member of RESCALED
23rd June 2023
IPRT is delighted to announce that at the General Assembly of RESCALED on 22 June 2023, RESCALED voted to accept IPRT as an organisational member.  
RESCALED is a European movement that challenges the traditional concept of prison and instead advocates for the use of small-scale, differentiated, and community-integrated detention houses. RESCALED's vision is one centred on inclusivity, safety, and sustainability. Read more about the work of RESCALED here. Learn more about RESCALED's network of members here. 
While IPRT couldn't attend the General Assembly in Brussels in person, we were delighted to contribute a short interview about IPRT's long history of advocating for alternatives to prison. We look forward to working alongside RESCALED and its members to continue to build our knowledge base, network with like-minded organisations across Europe, and build momentum for change in Ireland.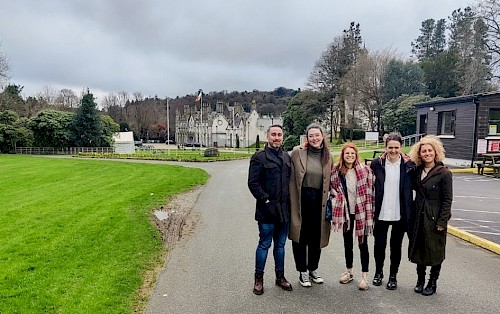 Photo: IPRT's Molly Joyce and Pamela Drumgoole on a visit to Shelton Abbey with RESCALED's Conor Dormer and Veronique Aicha, March 2023.