IPRT Presentation to the Joint Committee on Justice and Equality on Bail (Amendment) Bill 2017
5th December 2018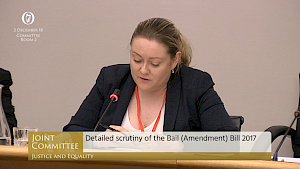 [IPRT Executive Director Deirdre Malone. Photo: Oireachtas TV.]
IPRT appeared before the Joint Committee on Justice and Equality on Wednesday 5 December 2018 for scrutiny of the Bail (Amendment) Bill 2017. IPRT was represented by Deirdre Malone, Fíona Ní Chinnéide and Michelle Martyn. Other witnesses before the Committee included: Jim O'Callaghan TD, Bill sponsor; Joan Deane, AdVIC; and Professor Mary Rogan, Trinity College.  
The proposed amendment to the Bail Act 1997 requires (rather than permits) the Court to refuse an application for bail in certain circumstances and introduces new requirements for electronic monitoring in certain circumstances where bail is granted.
As outlined in our appearance before the Committee, it is IPRT's view that the Bill:
raises constitutional and human rights issues;
is likely to place further pressure on an already overcrowded prison system;
will have significant cost implications; and
is extremely unlikely to fulfil its promise to deliver safer communities.
While pre-trial detention has an important part to play in some criminal proceedings, there is already a robust bail system in place. IPRT believes that any reform of national bail laws requires careful consideration of applicable due process principles, constitutional implications and international human rights obligations, both universal and regional.
Read the IPRT Opening Statement to the Joint Committee in full here.
A recording of the hearing can be viewed here, with scrutiny of the Bail (Amendment) Bill 2017 commencing at 2:01:22.
Read more: