Irish Prison Service Annual Report 2019
15th June 2020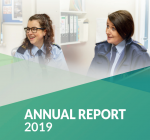 Minister for Justice and Equality Mr Charles Flanagan TD has published the Irish Prison Service Annual Report 2019. The report features statistics relating to the profile of the prison population in Ireland.
Below is an outline of some of the key figures contained in the report.
For IPRT's full response to the publication, see our press release here.
Key figures:
The overall daily average number of prisoners in custody was 3,971, compared to 3,893 in 2018 – an increase of 2%.
The average number of female offenders in custody was 170, compared to 165 in 2018 – a 3% increase.
There were 8,939 committals to prison in 2019, compared to 8,071 in 2018 – an increase of 10.7%.
The number committals under sentence of less than 3 months has increased by 75 or 12.1%, from 618 in 2018 to 693 in 2019.
The percentage of all of those committed under sentence for less than 12 months in 2019 was 76%, compared to 74% in 2018. However, as the total number of sentenced committals also increased in 2019, this represents a 21% increase.
A total of 7,170 persons accounted for the 8,939 committals in 2019. Of those persons committed, 87.5% were male and 12.5% were female.
The number of committals to prison as a consequence of the non-payment of a court ordered fine during 2019 increased by 89% from 455 in 2018 to 861 in 2019.
The total number of persons in custody on 30th November 2019 was 4,017 – a 1.5% rise on 3,962 at the same time in 2018.
The Irish Prison Service Annual Report 2019 is available here.
See more: