Minister Shatter delivers IPRT Annual Lecture
17th September 2011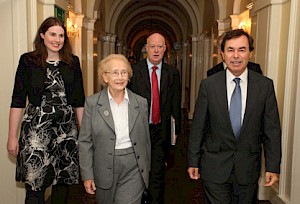 "Squaring the Circle – Penal Policy, Sentencing Offenders and Protecting the Community"
The Minister for Justice, Equality and Defence, Mr Alan Shatter TD, delivered the 2011 IPRT Annual Lecture on Friday 16th September in the Presidents' Hall, Law Society of Ireland, Blackhall Place, Dublin 7. In his address, Minister Shatter set out his vision for the development and reform of penal policy under the coalition Government.
[L-R: Dr Mary Rogan, Judge Catherine McGuinness, Mr Brian Purcell, Minister Alan Shatter. Photo: Derek Speirs.]
The evening was chaired by Judge Catherine McGuinness; a Questions and Answers session with the Minister was hosted by Colm O'Mongáin, editor and presenter of RTÉ's 'This Week'.
Audio clips and images from the event will follow shortly.
Read more:
This event was kindly sponsored by KOD/Lyons Solicitors. For more information, see: www.kodlyons.ie