President Higgins hosts reception at Áras an Uachtaráin for IPRT
18th September 2015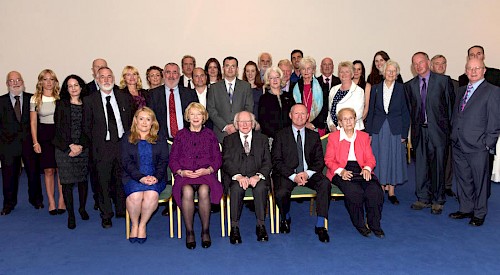 President of Ireland Michael D. Higgins and Sabina Higgins today (Friday, 18th September 2015) marked the work of the Irish Penal Reform Trust (IPRT) at a special reception at Áras an Uachtaráin on the occasion of the organisation's 21st birthday year. The reception of 50 people was attended by IPRT founder members, current and former board members and staff, long-time advocates and supporters of penal reform, and former prisoners.
In honour of President Higgins' long-standing commitment to human rights and social justice, Prof Michael O'Flaherty, Chairperson of IPRT Board of Directors, presented the President with a work of ceramic art created by a prisoner in Cork Prison.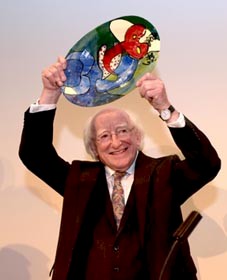 IPRT is an independent charity founded in 1994 by a group of citizens who were concerned about the abuses of human rights in Irish prisons, and who recognized that imprisonment compounds the social marginalization and disadvantage endemic in Irish society. Over its 21 years, IPRT has worked tirelessly towards a more just, a more equal and a more effective penal system in Ireland. The organisation's vision and mission is underscored by a commitment to combating social injustice.
Before his election as President of Ireland in November 2011, Michael D. Higgins was invited to become Patron of the Irish Penal Reform Trust in recognition of his long record in advocating for penal reform and human rights.
It is particularly apt that President Michael D Higgins is the first president elected in Ireland since the enactment of the Electoral Amendment Act 2006, which extended voting rights to people detained in prison. He is therefore the first President of Ireland for whom prisoners could vote.
Campaigning for enfranchisement of prisoners is just one of the many key achievements over the organisation's 21-year history, which include:
ending the use of padded cells in 2002;
establishment of an independent prisons inspectorate in 2007;
mothballing of plans for a super-prison at Thornton Hall, Dublin in 2011;
the extension of the Inspector of Prisons' remit in 2012 to include independent investigations into deaths in prison custody;
ending the practice of imprisoning 16-year-old boys in St Patrick's Institution in July 2012;
reduction in the numbers of men slopping out from over 1,000 in 2011 to under 300 in April 2015;
reduction in the numbers held in solitary confinement (22+ hour lock up) from over 190 in 2013 to 43 in April 2015.
For more information, please contact Fiona on 087-1812990
Photos from the event are available here (photographer: Bryan Meade): https://flic.kr/s/aHskkHDqPC
NOTES:
1. Irish Penal Reform Trust (IPRT) is Ireland's leading non-governmental organisation campaigning for the human rights of everyone in the penal system, for the progressive reform of Irish penal policy, and for imprisonment to be used as a sanction of a last resort:www.iprt.ie
2. IPRT was formally launched at an Inaugural Presentation on 29th June 1994 in Trinity College Dublin, at which Dr Paul O'Mahony delivered a keynote speech on The Prison: from Salvation to Salvage; John Lonergan, then Governor of Mountjoy Prison (and now IPRT Advocate) also spoke. Its first Management Committee was chaired by Senator Mary Henry. Members of the Committee were: Ms. Helen Haughton, the Rev. Fr. Lomán MacAodha, Judge Patrick McCartan, Dr. Paul O'Mahony, Mr. Tom O'Malley, Dr. Eoin O'Sullivan, Judge Mary Ellen Ring, Mr. John Wheeler, Mr. Anthony Whelan, and Bishop Desmond Williams, then Auxiliary Bishop of Dublin.
3. President of Ireland Michael D. Higgins became Patron of the Irish Penal Reform Trust in October 2011. He was invited by the Board of IPRT to become patron in recognition of his long record in advocating for penal reform and human rights.
4. In advance of the presidential election in 2011, IPRT wrote to all candidates to ask each candidate to consider the human rights situation in our prisons as a priority issue in the election campaign. The then presidential candidate Michael D Higgins wrote the following response:
During the course of my career in public life, as Senator, TD and Minister, I have, as you know, often visited prisons and prisoners. I greatly respect the work that the IPRT does and was delighted to speak to you and those in the IPRT during the campaign and speak at a variety of events at which issues related to prisoners were debated. For example, you will recall my concern for the issue of underage prisoners in St Patrick's Institution.
My concern for those at the margins of society is well known and stretches back many years, and my political outlook and activism has always been motivated by the need to bring about an Ireland, and world, of inclusion.
In terms of prisoners' issues particularly I have long advocated for the rights of those persons who are incarcerated, especially with regard to such discretion which is denied them in terms of their bodies and space- as well as other issues such as the continued practice of slopping out. I completely share your view that imprisonment ought to be an option of last resort and that crime prevention measures should always take precedence in seeking increased safety in communities.
I will continue, whether elected President or not, to retain an active interest in this field and you may be assured that the issue of human rights, both inside as well as outside of prisons, remains to the forefront of my thinking.