President to host a reception for the Irish Penal Reform Trust
11th September 2015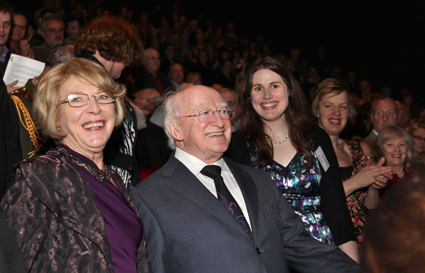 [Sabina Higgins, President Michael D Higgins, Dr Mary Rogan, and Senator Ivana Bacik at 'The Old Triangle -A celebration for the benefit of the Irish Penal Reform Trust' at the Abbey Theatre, Dublin in February 2012. Photo: Derek Speirs]
IPRT is honoured that President of Ireland Michael D Higgins, who is Patron of IPRT, will host a special reception at Áras an Uachtaráin on 18th September 2015 to mark the organisation's 21st birthday year.
The Irish Penal Reform Trust is an independent charity, founded in 1994 by a group of citizens concerned about the abuses of human rights in Irish prisons.
It has its origins in a planning committee, convened in September 1993, on foot of a suggestion by, and under the Chairmanship of Bishop Desmond Williams, then Auxiliary Bishop of Dublin. Mr. Jack Dunphy of Crosscare, Mr. Patrick Mulvenny of the Dublin Regional Council of SVP and Mr. John Wheeler as Study Director sat with him.
Their purpose was to carry out a preliminary study to consider the need for a penal reform organisation within Ireland – and if such a need existed, to establish the feasibility of forming such an organisation, define the principal objectives of such an organisation, examine work being done in the area of penal reform in Ireland and in other countries, and establish links with organisations and individuals concerned with penal affairs.
The initial consultations concluded, unsurprisingly, that there was an urgent need for such an organisation in the Republic of Ireland, and those who worked broadly within the scope of penal reform and penal policy welcomed the creation of such an organisation. The principal aims and objectives of an Irish penal reform organisation were decided as (i) to campaign for penal reform; and (ii) to provide a counselling service for prisoners, former prisoners and their dependents.
IPRT was formally launched at an Inaugural Presentation on 29th June 1994  in Trinity College Dublin, at which Dr Paul O'Mahony delivered a keynote speech on The Prison: from Salvation to Salvage; John Lonergan, then Governor of Mountjoy Prison (and now IPRT Advocate) also spoke.
Its first Management Committee was chaired by Senator Mary Henry. Members of the Committee were: Ms. Helen Haughton, the Rev. Fr. Lomán MacAodha, Judge Patrick McCartan, Dr. Paul O'Mahony, Mr. Tom O'Malley, Dr. Eoin O'Sullivan, Judge Mary Ellen Ring, Mr. John Wheeler, Mr. Anthony Whelan, and Bishop Desmond Williams, then Auxiliary Bishop of Dublin.
The aims of the organisation were set out thus:
Promote the constructive treatment of all offenders;
Further public knowledge of the penal system and of penal institutions in Ireland;
Generate rational discussion and debate on the Irish penal system;
Provide objective research and analysis of Irish penal policy.
From the beginning, the concerns were much wider than reform of the prison system and included the treatment of youth and juvenile offenders, non-custodial sanctions applied to adult offenders, rehabilitation initiatives and the problems experienced by an offender on reintegration back into society. These are all areas of continued importance to what is now known as the Irish Penal Reform Trust on which significant progress has been, and continues to be made.
Yvanne Kennedy
Read more: