IPRT Position Paper 9: Reform of Remission, Temporary Release and Parole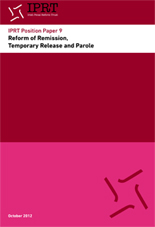 This Position Paper outlines IPRT recommendations for reform of prisoner early release mechanisms.
IPRT has developed these proposals as part of a package of reforms to tackle chronic prison overcrowding in Ireland. These reforms also aim to bring Ireland in line with its obligations under the ECHR.
IPRT believes that a more transparent and structured system of release for prisoners will incentivise meaningful engagement with services and regimes inside prison, and support more successful reintegration of prisoners back into the community.
The paper can be downloaded here.
Overview
IPRT recommends that a single 'Early Release Act' should be enacted to overhaul the current systems of remission, temporary release and parole. The main elements would include:
i) Remission: should be increased to 50% for sentences under 5 years; and 33% for sentences over 5 years but with an enhanced 50% for those who demonstrate engagement with services as part of incentivised regimes. These increases would bring Ireland into line with rates of remission in jurisdictions such as Scotland, England & Wales, New Zealand and France.
ii) Short-Term Temporary Release: A more transparent system of temporary release setting out clear criteria should be used for compassionate release, weekend release (maintaining family relationships) and day-to-day release for work – all of which support better reintegration of prisoners following release. It should not be necessary to use temporary release in an ad hoc manner to manage prison overcrowding.
iii) Earned Early Release: The principle of the recently introduced Community Return Scheme should be expanded to create incentives within the prison system for prisoners to engage constructively with services. Systems for deciding on early release should be open and transparent and prisoners should have a rights to challenge refusals for release.
iv) Parole: IPRT is calling for an independent statutory Parole Board to be established and to take over decision-making on the release of life-sentenced and long-sentenced prisoners. Among the many recommendations under this heading are: removing the role of the Minister in decision-making on release of long-term prisoners; extending the remit of the Parole Board to include early release applications of those sentenced 5-8 years; setting time limits for when parole hearings must take place; and giving a right to legal representation before the Parole Board.
v) Pardon: The Minister for Justice should consider making use of the right of pardon and the power to commute or remit punishment to bring the prison population within the safe custody limits recommended by the Inspector of Prisons. One suggestion is to remit (partly or in full) and/or introduce an amnesty for some or all fines defaulters to ease pressure on strained prison resources.
The Position Paper can be downloaded by clicking on the icon above.