IPRT Annual Review 2019 – 2020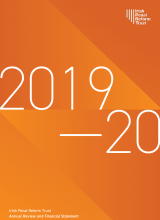 The 2020 Annual General Meeting of IPRT took place virtually on Wednesday 16th September 2020. 
At the AGM, a report on activities and developments during 2019 –2020 was presented to members present by Executive Director Fíona Ní Chinnéide, and Chairperson Seamus Taylor. Treasurer Kevin Gregory gave a financial report for the year ended 31st December 2019.
The Irish Penal Reform Trust Annual Review and Financial Statement 2019 was made available at the meeting.
For more information on IPRT activities and developments during the year, read the IPRT Annual Review 2019 - 2020.