Case Study 1: Thornton Hall super-prison
NOTE: As of January 2019, plans for the development of a super-prison at Thornton Hall have been cancelled.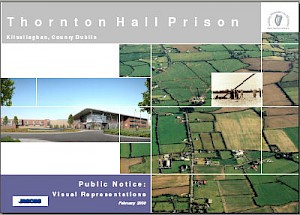 IPRT was strenuously opposed to the super-prison plans from their inception, drawing on national and international experience which shows that penal expansion does not address overcrowding, and only serves to increase prison populations: if prison places are built, over time ways are found to fill them.
IPRT was - and remains - against the building of the proposed prison on the basis of its size, location, and also early plans to re-locate female prisoners to the remote site, along with minors within the prison system, and to co-locate the new Central Mental Hospital on the site. It was IPRT's position that these plans were ill-conceived in their entirety.
So what did we do about it?
We did our research. We set out our position. We took a detailed look at the short-, medium- and long-term issues, and worked out the most effective ways to address them. We fought assumptions with facts and analysis. We abolished established myths that soaring crime was responsible for rocketing prison numbers. We decided that the economic crisis presented us with an opportunity that couldn't be missed. We proposed solutions that would be of greater social and economic benefit to Irish society than prison building.

And then we set about communicating our position and our recommendations. We made submissions. We held events. We issued press releases. We talked to stakeholders. We talked to the media. We participated in policy processes.
In everything we did, we were consistent in our core message of complete opposition to any plans to expand the prison system:
"Increasing the size of and numbers in our prisons does not - and will not - reduce levels of crime. It merely serves to increase prisoner numbers. Instead, building smaller prisons within the community, with emphasis on alternatives to custody and prison as a last resort, while investing in early intervention and prevention measures, will be of far greater benefit to society."
What was the result?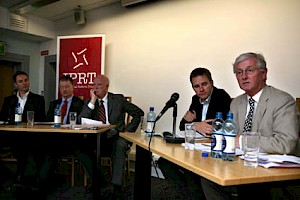 In short, there has been an enormous sea-change in penal policy. Since 2011, there has been a complete shift from insistence that prison building must keep up with accelerating numbers committed by the Courts, to cross-party consensus that the prison population must, in fact, be reduced, and that this can 
[Photo: IPRT Open Forum 2009. L-R: Prof Ian O'Donnell, UCD; Jimmy Martin, Asst. Secretary of the Dept. of Justice; Brian Purcell, Director General, Irish Prison Service; Prof Fergus MacNeill; Prof Andrew Coyle. © Derek Speirs]
From early 2011, work was carried out in Mountjoy Prison to install in-cell sanitation across the prison – something the previous Government had insisted could not be done, proffering Thornton Hall as the only viable solution to chronic overcrowding in unfit prison conditions.
In April 2011, the new Minister for Justice Mr Alan Shatter TD announced the establishment of a committee to review the Thornton Hall Project. The committee reported in July 2011, and on publication of the report Minister Alan Shatter stated unequivocally: "The Minister agrees with the Review Group's view that prison overcrowding cannot be solved solely by building more prisons and that further steps are required to reduce the prisoner population." Although the committee concluded that a smaller prison should still be built at the Thornton Hall site, these plans have since been shelved.
On 30 April 2012, the Irish Prison Service published its Three Year Strategic Plan 2012-2015, in which it prioritised refurbishment works to eliminate the practice of slopping out within the existing prisons.
On the recommendations of the Thornton Hall Review Group, in Sept 2012, the Minister for Justice announced the establishment of a working group to conduct a wide-ranging strategic review of penal policy to inform the future development of penal policy in Ireland.
On 27 March 2013, the Committee for Justice, Defence and Equality published its Report on Penal Reform, in which they recommend a 'decarceration strategy' to reduce the prison population by one third over 10 years - cross-party consensus that penal expansionism does not work.
More recently, in May 2018, the Joint Oireachtas Committee on Justice and Equality, in their Report on Penal Reform and Sentencing recommended that there be a "capping of prisoner numbers in each institution, along with the adoption of a clear strategy by the Government to reduce the prison population by half over a fixed time scale".
Until January 2019, the building of a prison facility on the Thornton Hall site in north Dublin had been mothballed and not scrapped – and the site remained in the ownership of the Department of Justice. However, the Department of Justice has offered the land to the Land Development Agency, to hopefully be used for housing. A spokesperson for the Department told The Irish Times that the 'super-prison' envisaged in 2005 by the then government was now regarded, in modern penal policy terms, as "counterproductive".
If this welcome shift toward a more progressive penal policy is continued, we believe that there will be no further large prisons built because there will be no demand to justify their development. 
IPRT intends to be a part of consolidating this shift.
For more information on how you can support our work, please see here.
Key actions by IPRT
It would not be possible to list here every action by IPRT that contributed to the decision by policy-makers not to proceed with plans to build a super-prison at Thornton Hall, but some key outputs include:
June 2008: IPRT Position Paper 1: Thornton Hall published, detailing exactly why IPRT was opposed to plans for building a super-prison complex on the Thornton Hall site in north Dublin.
June 2009: IPRT held an Open Forum on the topic 'Re-imagining the Role of Prison in Irish Society' which focused specifically on penal expansionism, and the plans for a super-prison at Thornton Hall. International experts, Prof Andrew Coyle and Prof Fergus McNeill, addressed the issues and Irish criminal justice officials and experts had the opportunity to respond. Also in June, IPRT Executive Director Liam Herrick wrote an opinion piece for the Irish Examiner addressing the issues.
Sept 2009: IPRT published two position papers, IPRT Position Paper 5: Penal Policy with Imprisonment as a Last Resort and IPRT Position Paper 6: Planning the Future of Irish Prisons which offered a deeper analysis of the core policy issues at the root of penal expansion.
Nov 2009: IPRT published its Briefing on Overcrowding in Irish Prisons, updated again in June 2010 and Oct 2011, setting out short-, medium- and long-term measures to tackle overcrowding, without expanding the prison system.
March 2010: IPRT co-hosted a briefing for the Oireachtas All-Party Penal Reform Group, exploring 'Community Sanctions and Alternatives to Imprisonment' as a means to address overcrowding, with input from guest speakers Dr. Mairead Seymour of the School of Social Sciences and Law (DIT) and Prof. Ian O' Donnell of the Institute of Criminology (UCD).
June 2010: IPRT held an Open Forum on the topic 'Exploding Prisoner Numbers - Causes, Effects and Solutions', exploring the driving factors behind soaring imprisonment and effective methods to address the issues.
Sept 2010: As part of the 'Shifting Focus' project – encompassing research, position paper, and conference – and working in collaboration with Barnardos and IAYIC (now EPIC), IPRT put forward the clear argument for investment in prevention and early intervention strategies instead of costly and ineffective penal expansion.
February/March 2011: Before and after the general election, IPRT actively pushed reform of penal policy as a key issue. We analysed the justice sections of party manifestos; we asked members and supporters to query canvassing candidates on their position on Thornton Hall; and we put together a blueprint for a progressive criminal justice policy that had a reduction in prison numbers at its core.
April/May 2011: IPRT was extremely active in advance of and during Ireland's First Periodic Review under the UNCAT (United Nations Convention against Torture and Other Cruel, Inhuman or Degrading Treatment or Punishment), recognising that international monitoring bodies would bring pressure on the Government to act on overcrowding and unfit prison conditions in Ireland. In its Concluding Observations, the Committee recognised that overcrowding was a central problem in the prison system, and made clear that Government must "adopt" a policy focussing on the development of alternative, non-custodial sanctions to reduce the numbers in custody.
May 2011: Following the establishment by the Minister for Justice of a committee to review the Thornton Hall Project, IPRT made a Submission to the Review Group on Thornton Hall, in which we emphasised the need for a more enlightened, socially just crime policy which focused on crime reduction and diversion, with penal moderation as a key principle, rather than building more and more prison spaces; we also reaffirmed our objections to Thornton Hall on the basis of its proposed size and isolated location.
Oct 2011: Following IPRT's intense advocacy work in advance of Ireland's first hearing under the Universal Periodic Review, measures to address overcrowding, slopping out, and violence were among the prison-related recommendations made by 17 of the 48 Member States present in Geneva.
Nov 2011: Arising out of the recommendations of the Thornton Hall Project Review Group, a Subcommittee on Penal Reform was established. In our Submission to the Penal Reform Committee, IPRT set out its proposals for 'back-door policies' to reduce the prison population safely, and thus address chronic overcrowding without resorting to ill-conceived penal expansion.
Oct 2012: IPRT published its Position Paper 9: Reform of Remission, Temporary Release and Parole, in which we further developed our proposals for ways to reduce the prison population to within safe custody limits, without risk to public safety.