IPRT appears before Joint Committee on Disability Matters
23rd June 2022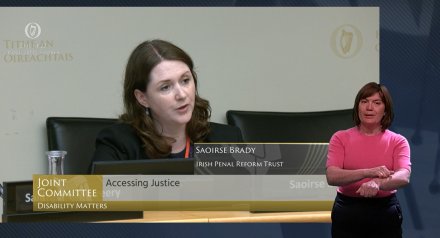 [IPRT Executive Director Saoirse Brady. Photo: Oireachtas TV.]

IPRT Executive Director Saoirse Brady and Senior Policy and Research Officer Sarahjane McCreery appeared before the Joint Committee on Disability Matters on 23 June as part of an examination of 'Accessing Justice'.
 In our brief opening statement, we focused on three key issues:
The lack of data on disability within the penal system.
The treatment of people with disabilities in the penal system.
The importance of diversion from the criminal justice system.

Our recommendations for the Committee were as follows:
Systems for collection of data on disability should be devised and implemented across the criminal justice system to identify and address the barriers faced by people with disabilities in accessing their rights.
The Irish Prison Service should undertake accessibility audits of all prison settings and engage in a disability equality analysis of its service, and ensure that all those working in prison receive training on responding to the needs of prisoners with disabilities.
All prisoners experiencing mental health difficulties should be offered appropriate non-psychiatric responses (including access to psychology, counselling, and survivor-led peer support).
The placement of people with disabilities in solitary confinement should be prohibited, in line with international human rights standards.
The High-Level Task Force final report and high-level implementation plan should be published without further delay.

IPRT's Opening Statement can be read here.
A transcript of the discussion will be linked here when it is available on the Oireachtas website.
A video of the Committee meeting is available online here, with IPRT appearing from 00:14:00. Questions from Committee members commence at 00:19:40.
The Opening Statements of the other witnesses before the Committee are available on the Oireachtas website here.