IPRT Presentation to the Joint Committee on the Future of Mental Health Care
23rd May 2018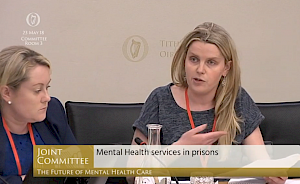 [IPRT Executive Director Deirdre Malone and Senior Research and Policy Projects Manager Michelle Martyn. Photo: Oireachtas TV.]
IPRT appeared before the Joint Committee on the Future of Mental Health Care on 23 May 2018. Representatives from the Irish Prison Service, National Forensic Mental Health Service, and Oberstown Children Detention Campus also made presentations to the Committee.
In our submission, we made a number of recommendations for change before, during and after prison, including:
investment and use of prevention and early intervention supports;
address the current waiting list for children and young people to access CAMHS;
development of diversion services in courts and police stations;
solitary confinement should be absolutely prohibited for mentally ill prisoners;
provide for enough prison psychologists to reach a ratio of 1:150;
linkage with psychology supports and addiction counsellors made available to those with mental health issues upon release in the community.
IPRT's Opening Statement to the Joint Committee is available here. 
A transcript of the hearing is available here and a video of the proceedings can be viewed here.
Read more
For publications related to health and mental health in prison, please visit our 'Health in Prison' section.