PUBLIC FORUM: Breaking the Record - Spent Convictions & Discrimination
10th May 2011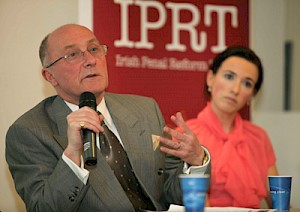 IPRT hosted Bobby Cummines OBE, Chief Executive of UNLOCK, the National Association of Reformed Offenders (UK) on Tuesday 10th May, 2011 for a series of events focusing on obstacles experienced by those with a criminal record who wish to move on from their offending past. Along with a Briefing for the All Party Penal Reform Group in Leinster House, Bobby also spoke at the Breaking the Record' Public Forum, which took place in Pearse St Library, Dublin 2. Read more about the event here
[Photo: Bobby Cummines OBE and Erin Gavin, TEO, Business in the Community Ireland. Photo: Derek Speirs.]
Context
Ireland currently has neither Spent Convictions legislation* nor anti-discrimination legislation applying to former offenders or former prisoners. IPRT welcomes the commitment by the new Government to publish a Spent Convictions Bill by July 2011, and we are working hard over the coming months towards optimum levels of legal protection in the Bill, and broadening the agenda for reform in this area.
For more information on our Spent Convictions campaign, click here. 
Biography of Bobby Cummines

Bobby Cummines OBE FRSA is a leading figure in prison reform and crime reduction in the UK. As Chief Executive of UNLOCK, Bobby has been an expert advisor to the Government and House Of Commons on issues of prison reform and rehabilitation, including the House of Commons Home Affairs Select Committee: Rehabilitation of Offenders Act, Specialist Advisor appointed by the Home Secretary, and Member of the Chief Inspector of Prison's Advisory Group, the House of Commons Home Affairs Select Committee on Prisoner Education, and as board member of the NOMS South East Regional Reducing Re-offending Delivery Board.
Among his achievements with UNLOCK are:
establishment of Esteem Insurance to provide a range of insurance products to ex-offenders and individuals living with ex-offenders who face exclusion from the general market
establishment of independent specialist mortgage services for ex-offenders
the establishment of a pilot project with HBOS to provide basic bank accounts to serving prisoners
he has also successfully campaigned with the Penal Reform Trust (UK) against the blanket ban on voting rights for prisoners.
Bobby was awarded an OBE in the New Year's Honours List 2011 for services to reformed offenders. He is a former prisoner.
Fore more information about UNLOCK visit: www.unlock.org.uk
* Under the Children Act 2001, there is provision for the expungement of a criminal conviction where the crime was committed when the person was aged under 18, the offence is not an offence required to be tried by the Central Criminal Court, more than 3 years has elapsed since the finding of guilt, and the person has not been dealt with for another offence in that 3-year period. See: http://www.irishstatutebook.ie/2001/en/act/pub/0024/sec0258.html#partxiii-sec258