Department of Justice Research Papers on Spent Convictions
16th October 2020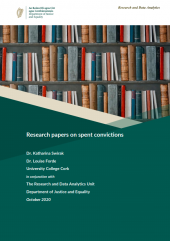 As part of its ongoing public consultation on spent convictions policy, the Department of Justice has published two research papers on spent convictions. The papers were authored by Dr Katharina Swirak and Dr Louise Forde (both UCC), in conjunction with the Department of Justice Research and Data Analytics Unit.
These research papers examine spent convictions focusing on two separate areas. 
The first paper summarises the legislative and policy approaches to spent convictions in several common and civil law jurisdictions, specifically New Zealand, Australia, England and Wales, Sweden and the Netherlands. The paper includes: details of the criteria required for a conviction to become spent; vetting architecture; and recent changes to approaches in these jurisdictions.
The second paper is based on a 'rapid evidence review' of academic literature on the theme of spent convictions. This paper examines: the impact of spent conviction regimes on reintegration; the principle of proportionality; and approaches to the disclosure of criminal records.
 
1. Legislative and policy approaches to spent convictions in common and civil law jurisdictions
The key areas covered in this paper include primary legislation, spent convictions criteria, legislation in practice, exceptions to spent conviction regimes and vetting.
In New Zealand, the Criminal Records (Clean Slate) Act 2004 is the primary legislation governing spent convictions, it allows for the non-disclosure of certain criminal offences when a number of criteria are fulfilled. The conditions which need to be met in order for a conviction to become spent are quite restrictive. For example, a custodial sentence can never become spent.
The Rehabilitation of Offenders Act 1974 is the key piece of legislation in England and Wales. For most purposes, the Act treats a rehabilitated person as if he or she had never committed an offence and, as such, they are not obliged to declare their caution(s) or conviction(s), for example, when applying for employment or insurance. Following 40 years in operation, the Act was reformed in 2014. The changes introduced in 2014 meant that in many cases the time it takes for a conviction to become spent was reduced. It also meant in some instances convictions that were unable to become spent can now become spent. This was a progressive move.
As for Australia, legislation exists in all States and Territories as well as the Commonwealth, which limits the disclosure of certain older offences once a period of time passes during which a person has committed no further offences; this is known as the 'waiting period' or 'crime-free period'. There is a degree of variation between states in Australia as to how spent conviction legislation operates.
In Sweden, criminal records are a matter of personal privacy and disclosure is only required for certain professions, i.e. those involving the care of children or other vulnerable groups.
Similarly, Dutch law prohibits the provision of written information about criminal records; alternatively, a 'Conduct Certificate' is issued for applicants to show potential employers that there are no objections to the applicant practising a certain profession or certain role.
 
2. Spent Convictions Rapid Evidence Review
This paper focuses on how to achieve a balance between just and proportionate punishment, effective reintegration of persons with convictions, their right to privacy, and public safety. While spent convictions regimes can be important in ensuring that those with criminal histories have the chance to re-engage with society, the requirement to disclose criminal records can cause significant harm to ex-offenders, including a lack of reintegrative and economic opportunities, i.e. access to education, volunteering, training, and employment.
In Ireland, the Criminal Justice (Spent Convictions and Certain Disclosures) Act 2016, introduced a legislative framework for regulating spent convictions. However, the Act has been frequently criticised for its ineffective approach to rehabilitation. The Criminal Justice (Rehabilitative Periods) Bill 2018 [PMB] was introduced to address the shortfalls of the Criminal Justice (Spent Convictions and Certain Disclosures) Act 2016 by proposing a number of amendments; including the extension of spent convictions sentence limit (custodial sentences) from 12 months to 24 months, the introduction of proportionate rehabilitation periods, and the removal of the limit on the number of convictions eligible to be spent.
Research conducted in the UK and Australia emphasises how criminal record checks often add to the punishment experienced by those convicted, this is known as 'criminal record stigma'. Evidence from several jurisdictions, including England and Wales, shows that a significant percentage of the working-age population is estimated to have at least one criminal conviction. Studies based on the Canadian context demonstrate that employment, education and training opportunities and appropriate housing options are vital for ex-offenders reintegration into the community. In fact, stable employment can encourage other factors that are involved in desistance, including the development of positive relationships and self-respect. A study in 2002 identified that those employed after conviction are 30-50% less likely to re-offend, with 68% identifying employment as the most important factor.
Concerns surrounding spent convictions regimes are often based on the limit of information which employers feel that they have a right to access. However, the importance of spent convictions regimes to both reduce indirect punishment and encourage rehabilitation is highlighted in this area. Research on spent convictions indicates that blanket provisions for all types of offences would not make sense, i.e. spent convictions should be based on lengths/types of conviction. For example, the provision of greater access to spent convictions for minor drug offences coincides with the shift towards public health led rather than criminal justice led responses to drug-related crimes.
A body of literature now also exists considering the establishment and development of a 'right to be forgotten'. Scholars have suggested that evidence on drivers of recidivism and desistance should be strongly considered when designing a spent convictions regime; however, this needs to be done in conjunction with promoting effective rehabilitation and community safety. Research suggests that greater access to spent convictions may be helpful in removing stigma and therefore enabling reintegration, consequently improving public safety.
Read the research papers on spent convictions on the Department of Justice website.
Take part in the public consultation on spent convictions (closing 6th November 2020).