IPRT Report Launch: 'Travellers in the Irish Prison System: A qualitative study'
19th May 2014
IPRT will launch a new comprehensive report on the experiences of Travellers in the Irish prison system on Monday 19th May 2014.The launch event takes place from 10.30-12pm in the Chester Beatty Library, Dublin Castle, Dublin 2.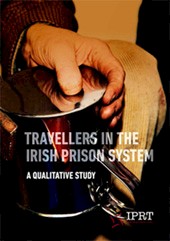 Travellers in the Irish Prison System: A qualitative study is the culmination of a qualitative research project, carried out by Liza Costello, including interviews with former prisoners. The comprehensive 76-page report details:
Findings from the research literature
Issues facing Travellers in the Irish prison system
Issues facing Travellers leaving prison
Supports and coping strategies in prison
Examples of good practice
Conclusion and recommendations
To reserve your place, please sign-up here.
IPRT is grateful to all the voluntary organisations that kindly supported the interview process, and to Pavee Point for facilitating contact with the groups.
Thanks also to the members of the research group for supporting the study: Seamus Taylor of NUI Maynooth, Katayoun Bahramian and John Paul Collins of Pavee Point, Susan Fay of the Irish Traveller Movement, and Maria Joyce of the National Traveller Women's Forum.
IPRT is very grateful to the St Stephen's Green Trust for kindly supporting this research project.
For media enquiries, please contact Fíona on **087-181 2990087-181 2990**
Show your support!
This event is free, but you can show your support for the ongoing work and activities of IPRT by becoming a member!
Annual membership is just €10 for students, €40 for individuals, €80 for organisations/firms, and free to prisoners and their families. By becoming a member of IPRT you will be expressing your support for urgent penal reform in Ireland.
Why not consider becoming an IPRT member now?
You'll need Skype CreditFree via Skype