Turnaround Youth - Launch
12th May 2015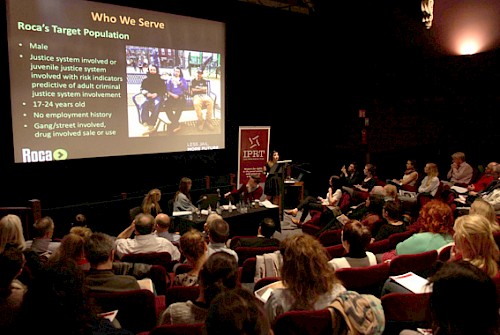 Young adults who commit offences ~ the case for a distinct approach
There was a terrific turnout for the launch of our Turnaround Youth Project and Report, which took place on Tuesday 12th May 2015 in the Irish Film Institute, Dublin 2. This report presents the case for the differential treatment of young adults aged 18-24 who come in contact with the criminal justice system, and is available for download here.
We really appreciated the attendance of key stakeholders at the launch, including representatives from: Irish Prison Service; Probation Service; An Garda Síochána; Irish Youth Justice Service; the Department of Justice and Equality; and the Ombudsman for Children's Office.
Alongside SpunOut, Future Voices Ireland, Solas Project, and ROCA Inc, we were delighted to welcome representatives from EPIC, Youth Work Ireland, Swan Youth Services, IASIO, Pavee Point, Le Chéile, PILA, JCFJ, and many more services, members and supporters.
Speakers were: Ian Power, Director of Spunout.ie (who chaired the event). Deirdre Malone, Executive Director, IPRT; Ciara Egan, Future Voices Ireland; and Jen Garcin, Research Associate with ROCA Inc. (USA). The participation of two young men with experience of the issues was facilitated by Solas Project (video).
Ursula Fernée, Regional Manager, Young Persons Probation; Assistant Commissioner John Twomey, An Garda Siochána; and Jane O'Neill, solicitor, Michael J Staines & Company, responded to the presentations and issues.
Many thanks to all those who attended, and also to our speakers and respondents, for what was a stimulating and inspiring morning!
More information about speakers below.
IPRT press release available here.
Roundup of  media coverage available here.
_____________
Presenters
Jen Garcin is Program Associate at Roca, Inc. (Boston, MA.) Founded in 1988, Roca helps to alter the life trajectories of America's most high-risk young people - the young people that are involved in crime, engaged in dangerous behaviours, have rejected help, have dropped out of school, and are simply too difficult for other programs to serve. Their mission is to disrupt the cycle of incarceration and poverty by helping young people transform their lives.
Ciara Egan is one of the young people in Future Voices Ireland, a youth empowerment charity which aims to level the playing field, empowering those from the most marginalised backgrounds to transform their own lives. She is 16 years old from Finglas and is in Transition year in St. Michael's Secondary School in Finglas. Ciara is a published author and her latest work is Three Timely Tales. She also represented Dublin at the National Student Enterprise Awards in 2015. She has a keen interest in the human rights of young people and wants the voices of young people in her community to be heard.
Ian Power is executive director of SpunOut.ie, a youth information website by young people, for young people. Ian has a special interest in the area of youth justice through previous work with young people in the borough of Hackney, London and having completed the Advanced Diploma in Juvenile Justice at the King's Inns last year. Ian is currently a professional fellow on the 'Rule of Law: Engaging Youth' programme at Boston College, funded by the U.S. State Department.
Solas Project provides a range of innovative interventions that equip and empower young people to reach their full potential and participate fully in society. Through programmes of learning, mentoring, personal and social development, Solas Project supports young people to create a brighter future for themselves and their communities. The project works to address the imbalances that contribute to certain children and young people in Ireland growing up at a socio-economic and/or educational disadvantage.
Deirdre Malone is Executive Director of IPRT. Previously a barrister in private practice, Deirdre worked on criminal defence matters in the Youth Court, Magistrates Court and Crown Court and then as a member of the inquest and prison law team. Deirdre has also worked in Liberty (National Council for Civil Liberties UK), in the Human Rights Unit of the Department of Foreign Affairs and Trade (Ireland), and as a researcher for the Irish Attorney General.
Respondents
Assistant Commissioner John Twomey was appointed Assistant Commissioner ~ Dublin Metropolitan Region in 2012; he was previously Assistant Commissioner ~ Traffic. He has served in many other senior roles within An Garda Síochána, and holds a number of qualifications in police management and leadership.
Jane O'Neill, solicitor, has worked with Michael J Staines & Company since 2010. She advocates in the District Court and also has extensive experience in proceedings in the Superior Courts, litigating matters of prison law and custody issues. Jane  co-authors a monthly update of Criminal Law for Bloomsbury Professional Online.
Ursula Fernée is Regional manager of Young Persons Probation, a dedicated unit within the Probation Service, where she champions and oversees the development and delivery of services to young offenders in accordance with the principles and requirements of the Children Act 2001. As organisational lead on Restorative Justice she has responsibility for the development and implementation of the Service strategy. Ursula has long history of experience in both the English and Irish Probation Services which reflects her interest in and commitment to social work practice in the criminal justice setting. This experience encompasses work in the courts, community, multi-disciplinary projects and prisons.