IPRT welcome the publication of the Prison Census Reports January 2023
29th March 2023
IPRT welcome the publication of the January 2023 Prison Population Census reports on restricted regimes and cell occupancy and in-cell sanitation, which were published by the Irish Prison Service on 29 March 2023. While we very much welcome that this important data is published, we acknolwedge that it is a snapshot only and does not capture trends or day-to-day fluctuations.
Key points from the reports:
Overall number of people on a restricted regime decreased from 733 in Oct 2022 to 668 in Jan 2023.
Indication of a significant drop of people on restricted regimes in Cloverhill prison, while other prisons only show slight decreases of a few percentages.
Number of people on 24-hour restricted regime dropped significantly from 36 in Oct 2022 to 9 in Jan 2023.
Number of people restricted due to COVID-19 infection control decreased from 47 in Oct 2022 to 7 in Jan 2023.
Rule 62 (grounds of order) increased from 17 to 27 – higher than it has been in recent years.
Cell Occupancy and In-cell Sanitation report
A greater number of people are required to use the toilet in the presence of someone else (from 2,138 to 2,156) – however, because the prison pop has increased, the percentage of the population using the toilet in the presence of someone else has actually gone down slightly (50.3% to 49.9%).
Number of people slopping out has gone down to 8 people (from 29 in Oct 2022, and 100s in recent years). This is largely due to the movement of male prisoners to the new development in Limerick (male) prison. Huge reductions in recent years shows the level of commitment to the issue. However, work still must continue to completely eliminate the practice.
Increase in the number of people in single-cell accommodation (from 2,023 to 2,065). This appears to be largely because the Training Unit is at full capacity now. At the time of the last Census, as they were gradually moving people in from across the estate.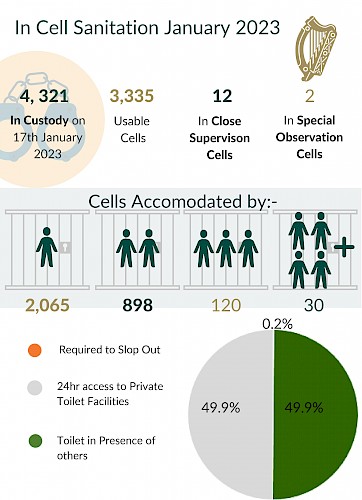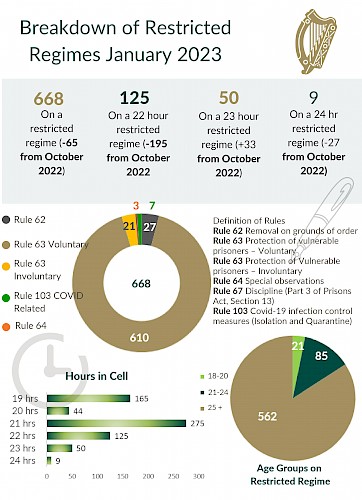 Read the full Prison Census of Restricted Regimes January 2023 report here.
Read the full Prison Census of Cell Occupancy and In-cell Sanitation January 2023 report here.
All Prison Population Census Reports are available on the Irish Prison Service website here.