Ebulletin #118
30th June 2023
Subscribe to IPRT news here. 
Dear members and supporters,  
Welcome to another edition of the IPRT Ebulletin! Reflecting on another busy quarter, we have a lot of information for you in this edition.  
Since you last heard from us, we have had some team changes, hosted our annual Progress in the Penal System (PIPS) event, attended events and been getting our messages out in the media.  
Below we've also included our work on children and families of people in prison, early details of our upcoming AGM, details of visits to prisons, recent publications of interest, news from the sector and lots more.   
As always, feel free to get in touch with any feedback or comments on our work. The best way to get real-time updates on our work is to join us on social media.  
All the best,  
Michelle Byrne 
IPRT Communications Officer 
---
IPRT Team 
Our small but mighty staff team has had a few changes since our last update.  
We were delighted to welcome Helen Kehoe to the position of Legal and Public Affairs Manager (Maternity cover) in April. She has previously worked as a Senior Researcher in the Office of Parliamentary Legal Advisors in the Houses of the Oireachtas, has lectured in constitutional law and brings considerable experience in research and legal policy having worked in the Law Society of Ireland and the Law Reform Commission. 
We wished Acting Executive Director, Molly Joyce, all the best as she began her maternity leave this month. We are also pleased to have the support of our new Interim Team Lead, Kathleen O'Meara, for several weeks ahead of Executive Director Saoirse Brady returning from maternity leave during September. 
As always, details to contact members of the team are here.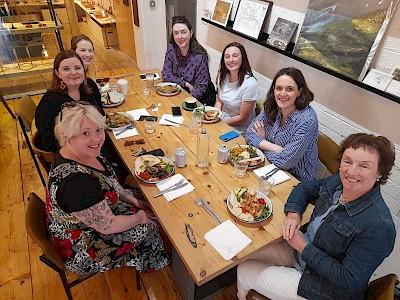 ---

Progress in the Penal System (PIPS): A framework for Penal Reform (2022) report launch 
For the last number of years, IPRT has measured the penal system against international human rights standards and best practice, covering areas such as prison conditions, regimes, accountability, and reintegration. The launch of the work which considered data from 2022, took place on 26 May 2023 in a packed room of stakeholders with an expert panel who offered their response to it.  
Read more about the event in the round-up on our website here. 
The PIPS 2022 report is available to view and download here.  
A summary of all standards assessed is available at pages 14-15 of the report or in the summary booklet here. 
A recording of the event is on our YouTube. 
View the full photo set from the event on our Facebook. 
As part of our Strategic Plan 2023-2026, we aim to support social enterprise initiatives where possible. At the PIPS 2022 event, social enterprise Loaf Catering provided delicious refreshments. Read more here. 
---
IPRT in the media – PIPS 2022 
---
IPRT on Overcrowding 
IPRT remains gravely concerned by the increasing overcrowding we are seeing in Irish prisons. We have repeatedly called for action to be taken immediately to reverse this trend and to implement policy commitments to reduce the number of people sent to prison.  
Continually we are seeing new overcrowding records being broken and news of people on mattresses increasing up to four-fold. 
We have reiterated our concerns at proposals to expand the prison estate. We know that creating more spaces is not the answer to overcrowding and that a quicker response to overcrowding would be to prioritise other penal reform measures mentioned in the Review of Penal Policy Options. Requiring judges to consider non-custodial and community-based sanctions; improving community service; reviewing Community Support Scheme & Return Programme; implementing High Level Task Force on Mental Health & Addiction recommendations and reviewing the Fines Act would all reduce overcrowding. 
We did a number of media responses to this, with highlights including IPRT's Acting Executive Director, Molly Joyce, appearing on Virgin Media Ireland AM speaking of the scale and implications of overcrowding in the prison estate and the impact this has on people in prison, as well as speaking on RTÉ Radio One with Claire Byrne.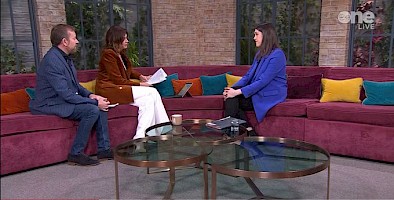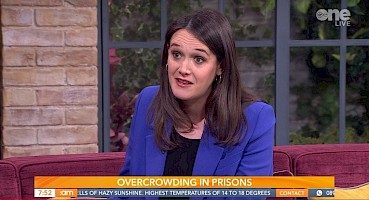 ---
Children and Families of People in Prison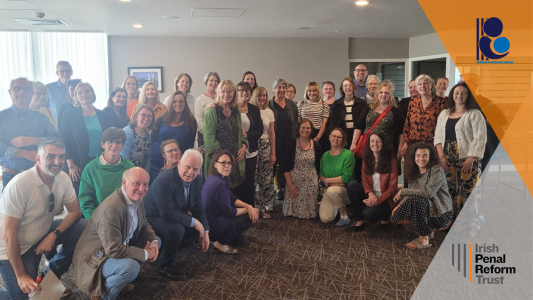 Membership: Children of Prisoners in Europe (COPE) 
IPRT is delighted to have been accepted as full members of the COPE Network, at their recent General Assembly. We look forward to working with the network to support the rights and needs of children of imprisoned parents across Europe. Read more about our new membership here and about the wider COPE conference 'Reconnecting through Learning and Play' here. 
Partnership: Kids' Own publishing 
We are looking forward to developing a new creative project as partner with Kids' Own publishing. The book project for children and young people who have experience of having a family member in prison will be the first of it's kind in Ireland. Read more here. 
Read more about the work of the Action for Children and Families of People in Prison Network here. 
---
IPRT becomes an organisational member of RESCALED 
IPRT is delighted to announce that at the General Assembly of RESCALED on 22 June 2023, RESCALED voted to accept IPRT as a full organisational member.  
RESCALED is a European movement that challenges the traditional concept of prison and instead advocates for the use of small-scale, differentiated, and community-integrated detention houses. RESCALED's vision is one centred on inclusivity, safety, and sustainability.  
Read more about the partnership here. 
---
IPRT Prison visits 
Our team has been continuing to visit prisons, including attending the opening of the new enhanced conditions in Limerick Prison, B division for people in prison there, the visiting the new Limerick Female prison and delivering sessions on the penal reform work of IPRT to new Recruit Prison Officers in Wheatfield prison.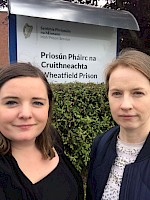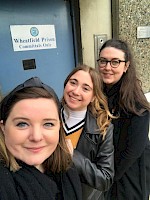 ---
Recent external publications 
---
Job opportunities in the sector 
---
Other news from the sector 
---
Upcoming at IPRT 
Working With Conviction project 
Work is still ongoing on the study of the barriers to employment and education for individuals with previous convictions and whether they face discrimination in accessing decent and sufficient work. The researchers have surveyed people with lived experience, employers and people working in admissions (now closed) and it is now being analysed. 
IPRT Annual General Meeting (AGM) 
Planning is underway for our AGM which is due to take place on the 20 September 2023. In order to be able to participate in our AGM, please ensure your membership is up to date – details below. 
---
Add your voice - become a Friend or Member  
IPRT relies on a network of committed supporters who share our vision for change. By becoming a Friend or Member of IPRT, you add your voice to our campaign for a more humane and equitable penal system.  
To find out more about supporting our work, please visit our Friends or Membership pages.  

IPRT relies on donations from charitable trusts, individual donations and membership subscriptions to cover operational costs. We have also received funding from donor-advised funds and project funds managed by the Community Foundation for Ireland and project funding from the Human Rights and Equality Grants Scheme of the Irish Human Rights and Equality Commission. IPRT receives core funding from: