Dear members and supporters,
Welcome to another edition of the IPRT Ebulletin! Reflecting the very busy first quarter we've had, we have a lot of information for you in this edition. We have updates on recent events (in case you missed them), a short round-up of recent publications, our recent submissions, insights from a new 'guest corner' and more. 
This month we are recruiting for the role of Senior Policy & Research Officer with IPRT. If you have a passion for human rights and would like to join the small but mighty IPRT team, be sure to check out the current opportunity below – deadline Monday 12th April!
To any new supporters joining us after attending either the launch of PIPS 2020 or our recent Prison Law Seminar: welcome aboard!
Have a peaceful Easter, 

Pamela
Communications Officer
After many years working at the heart of IPRT, today is Michelle Martyn's last day with us, before she takes up a new position with the Office of the Inspector of Prisons. Michelle has made an extraordinary impact on IPRT's research and evidence-informed policy base over the years, most of all in her role as lead author of our annual PIPS report, and also as a lead advocate for the rights and needs of children and families of prisoners.

She will be sorely missed by the entire IPRT staff and Board (as well as everyone who has had the pleasure of working with her over the years).  We wish Michelle all the very best in her new role.
Recruitment: Senior Policy and Research Officer
IPRT is now recruiting for the role of Senior Policy and Research Officer to lead our research and policy work, including the research and delivery of IPRT's flagship project, 'Progress in the Penal System'. The Senior Policy and Research Officer will also provide key policy functions including engagement with domestic consultation processes and international human rights monitoring mechanisms. This is a great opportunity to work at the centre of an effective organisation with a demonstrated track record of influencing progressive policy change.

The closing date for applications is Monday 12th April 2021. Full details are available here.

IPRT is an equal opportunities employer, and we welcome applications from people with criminal records. We don't ask for information about convictions during the recruitment process.
Progress in the Penal System 2020
While we missed the opportunity to meet with our supporters in person, IPRT was delighted to virtually launch the fourth annual edition of Progress in the Penal System 2020: Assessing progress during a pandemic ('PIPS 2020') on Tuesday 26 January 2021.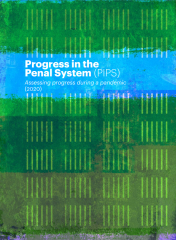 PIPS 2020 captures the positive reforms that have been implemented in response to the pandemic, reflects on how these reforms were achieved, and outlines the longer-term benefits to wider society so that these progressive reforms will be retained into the future. PIPS 2020 also examines the ongoing challenges of prison and penal reform during a time of pandemic.

The launch was chaired by Prof Aislinn O'Donnell and included inputs from our keynote speaker Ms Oonagh McPhillips, Secretary General, Department of Justice; Dr. Brie Williams, Professor of Medicine at the University of California San Francisco (UCSF) and Director of Amend at UCSF; Caron McCaffrey, Director General, Irish Prison Service; and Fiona Coyle, CEO, Mental Health Reform.

The report and speaker remarks are available here. We'd be happy to provide you with a hard copy of the report – just reply to this email.
Prison Law Seminar: The Prison Rules
Kicking off the Prison Law seminar series for 2021, IPRT and the Irish Criminal Bar Association hosted a seminar on The Prison Rules: Current Impact and Opportunities for Reform online on 25 February 2021. 

The seminar examined the role of the Irish Prison Rules in vindicating prisoners' rights, the process by which the Rules are amended and the opportunities for strengthening the protection they offer to prisoners. A short overview of the themes covered by each speaker is available on the IPRT website.

We also launched an updated 'Know Your Rights – Your Rights as a Prisoner' guide at the seminar. This guide will be made available to people in prison to help them better understand their rights. The guide will also be helpful for family members and practitioners working in the area. You can download it in various formats here.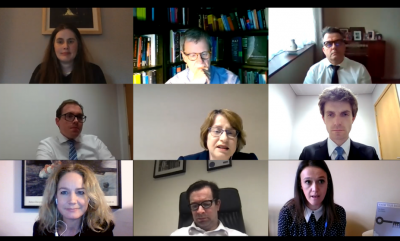 Submission to Ireland's third UN Universal Periodic Review
IPRT recently made a submission to Ireland's third UN Universal Periodic Review (UPR). UPR is a unique State-driven process that involves a review of the human rights records of all UN Member States. The IPRT submission focuses on the protection and promotion of human rights in Irish prisons and Oberstown Child Detention Campus and examines rights issues arising from Covid-19 and related restrictions. Read the submission here.
 
IPRT Submission to the Probation Service Strategy 2021 – 2023
While we originally made the submission through an online consultation survey, we put our answers to the questions asked together here.
IPRT response to recent publications

Below is a small snippet of the key publications we've been responding to in recent weeks, in case you missed it at the time. (You can read more of what we've been responding to over on our website.)
Guest article: Exploring the rights and experiences of migrant and minority ethnic groups in the penal system
Researchers from The Department of Law at Maynooth University write about the context for their research as part of IPRT's upcoming 'Access to Rights and Justice' project. #IHRECsupported Read their short piece here. (We're excited to share further outputs from the project with you soon!)
 
Guest blog: Developing smart principles for sentencing guidelines in Ireland
What should sentencing aim to achieve? This is one of the questions explored in a guest blog by Dr. Ian D. Marder (Maynooth University) and Dr. Eoin Guilfoyle (University of Bristol) on the principles that might underpin sentencing guidelines in Ireland. Read it here.
Want to join a group of like-minded people? Become a member of IPRT
Reflecting on one year of working to ensure that human rights were central to responses to COVID-19 in prison, we can safely say that we couldn't have done it without our member, donors and Friends.

Together, we can work to safeguard the positive developments that have been implemented during the pandemic. We cannot accept a roll-back on these reforms.

You can support IPRT by becoming a member, or through a small once-off donation.
IPRT relies on donations from charitable trusts, individual donations and membership subscriptions to cover operational costs. We have also received funding from donor-advised funds and project funds managed by the Community Foundation for Ireland and we have received project funding from the Human Rights and Equality Grants Scheme of the Irish Human Rights and Equality Commission.